EXE ISLAND BIOLOGICAL STATION
A Division of Mycotaxon, Ltd.
(Big Rideau Lake, 44°44´N 76°12´W)
P.O. Box 64, Portland, ON K0G 1V0, Canada
Telephone: 613-545-5108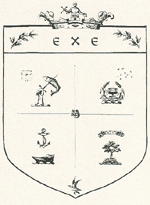 This site is under construction!
Exe Island is a 3-acre, totally wooded, rustic paradise located near the geographical center of 25-mile-long Big Rideau Lake. It is about halfway between Ottawa and Kingston, Ontario, reached by our boat or a water taxi from the village of Portland. The lake is part of the Rideau Canal System. It has a turn of the (20th!) century uninsulated cottage with two stories and a small cupola that serves as the Biological Station's laboratory. It was purchased by the Korfs in 1972, and later was transferred to Mycotaxon, Ltd., whose shareholders now operate the station, and who use it for corporate meetings, entertaining, and recreational purposes.
Email the webmaster (Cap'n Dick)

Yahoo Canada - http://ca.yahoo.com/
This website was last updated on July 14, 2001